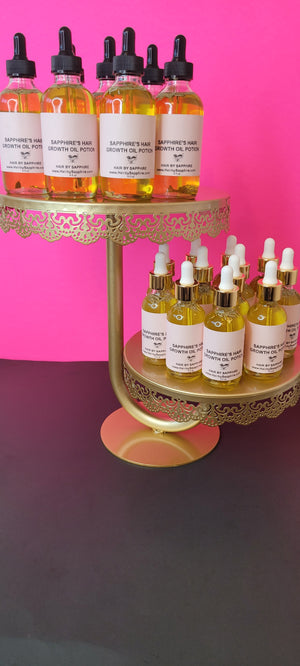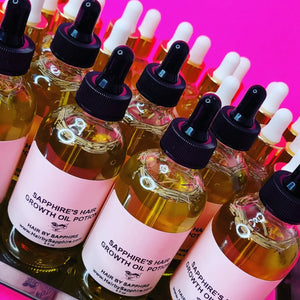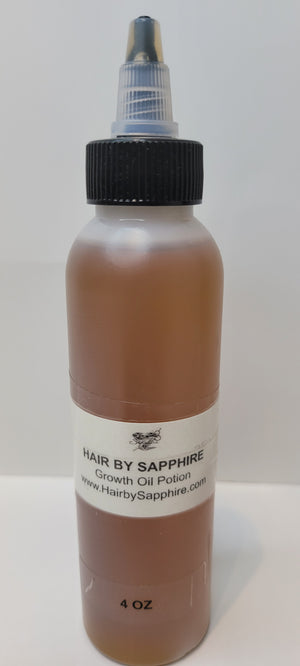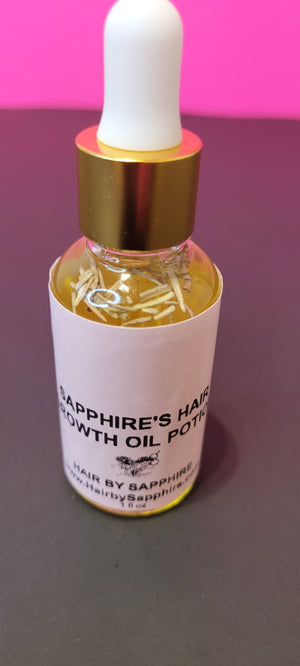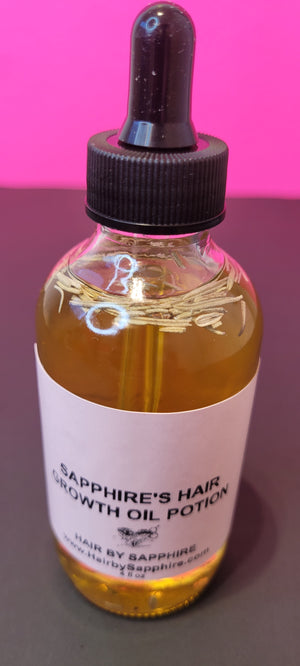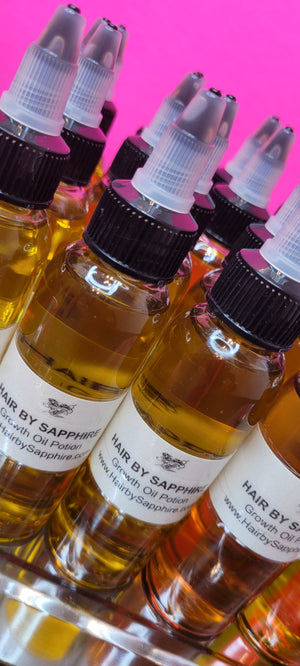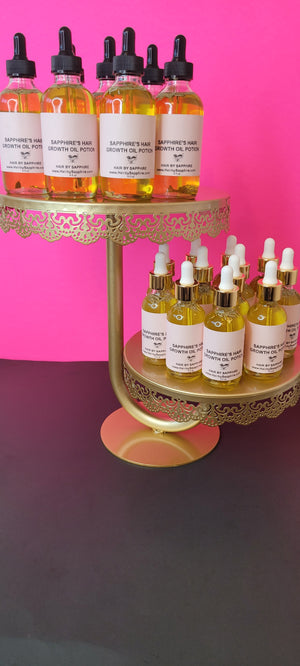 INTENSE HAIR GROWTH OIL POTION BY SAPPHIRE phthalate-free, paraben-free
For ALL HAIR TYPES AND TEXTURES. A hot seller for over 15 years, the signature Intense Hair Growth Oil Potion by Sapphire:

Restores hair regrowth from events such as Covid hair loss, inflammation, chemotherapy, radiation treatments
Regenerates and activates hair follicles facilitating hair growth
Detoxifies the scalp
Kills and prevents fungus
Kills scabies
Softens and Detangles natural kinky & curly hair
Helps prevent hair breakage
Soothes dry, itchy scalp
Soothes scalp inflammation and irritation
Made in USA with Organic ingredients, herbs, and vitamins!
Smells sooooo good!
Color safe, relaxer safe, cruelty-free, and vegan
No alcohols, no water, fragrances, no gums, no caffeine, no glycerin, no preservatives, phthalate-free, paraben-free
A little goes a long way. 
To Use: Simply part the hair (while either wet or dry), apply to scalp, and massage with fingertips. Don't forget those edges and nape areas! DO NOT RINSE OUT!
*Use as a Hot Oil Treatment for fine or thin hair (Simply apply to wet freshly shampooed hair, cover with a plastic cap and EITHER sit under dryer for 15-20 mins, OR let it sit without heat over night. RINSE OUT.
*Use while wearing protective styles such as sew-ins, braids & wigs, and wig hats
*Use as your Main hair styling Oil for children and adults
*Oil for dreadlocks aka earthlocs
**TO BE FEATURED TAG US AT WITH YOUR HAIR GROWTH JOURNEY PROGRESS: @HairbySapphire1 on Instagram!!