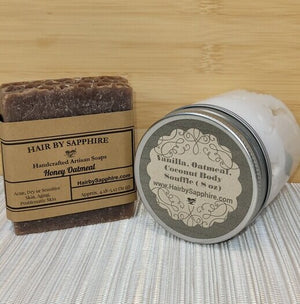 SOAP AND BODY SOUFFLE GIFT SET
Double the warm, delicious aroma of the Vanilla Oatmeal Coconut Soufflé and Raw Honey Oatmeal Handcrafted Artisan Soap. 
Every day is Spa Day with this rich, fluffy Body Soufflé. This Body Soufflé hydrates and glows the skin, is rich in anti-inflammatory skin-protecting antioxidants, and is loaded with skin-protecting vitamins and antiaging properties. Reward and treat yourself everyday with this melt-on-your-body fluffy Soufflé. Handcrafted and whipped to perfection with skin-loving ingredients.
The Raw Honey Oatmeal Soap is perfect for acne, eczema, rashes, psoriasis, itchy, irritated, inflamed, sensitive skin, and all skin types.