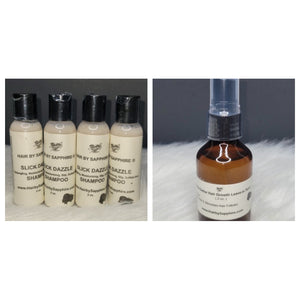 Mini Travel Size Sulfate-free Shampoo and Conditioner Toiletry Amenities Set
Ideal for on-the-go, travel, gym,  vacation rentals, hotels, and short term rentals such as Airbnb this set includes one 2 oz. Sulfate-Free, Moisturizing, Slip Shampoo and one 2 oz. Hair Growth Thickening Repair Leave-in Conditioning Tonic 
ABOUT THE SHAMPOO:
Formulated by licensed Healthy Hair Specialist Sapphire the Slick Dazzle Sulfate-Free, Moisturizing, Detangling, Strengthening, High-slip Shampoo quenches your hair and scalp thirst, dumping moisture into your thirsty hair! Its rich lather ensures your hair and scalp are getting cleaned without stripping your hair. Its high-slip helps make detangling a breeze, soothes inflammation, and leaves hair with a nice shine! This shampoo detoxifies the scalp and is perfect for all hair types and human hair wigs. Can be used with the Grow-Getter Hair Growth Leave-in Tonic during your hair growth journey.
What you'll Love:
Sulfate-free
Silicone-free
Phthalate-free
Reduces hair fallout
Strengthens hair
Improves moisture & manageability
Can be used on Relaxed hair
Can be used on Color-treated hair
Ideal for dry hair, brittle hair, damaged hair, coily & curly hair 
ABOUT THE LEAVE-IN CONDITIONER: 
FOR ALL HAIR TYPES AND TEXTURES. Now you can finally have the long, thick, strong, beautiful hair you've always dreamed of....naturally grown from your own scalp (with or without a relaxer!) with the GROW-GETTER Leave-in Strengthening, Thickening, Growth Tonic!!
What you'll Love:
Helps Stop Hair Fall crisis in about 7 days
Stimulates hair follicles for hair growth
Repairs, strengthens, and revitalizes damaged, weak, dry, brittle, limp hair
Conditions hair, leaving it strong, healthy, thicker, fuller, and longer
Defines your curls and waves
Helps your hair to hold heat styles better.
Should be used with the Hair Growth Oil Potion 
Most start to see results within just 1-2 weeks with consistent use.
For all hair types and textures.
For Men and women.
Can also be used as a setting lotion and can be used in wet hair as a protective filler just before applying a cellophane color or color rinse.
**TO BE FEATURED TAG US AT WITH YOUR HAIR GROWTH JOURNEY PROGRESS: @HairbySapphire1 on Instagram!!