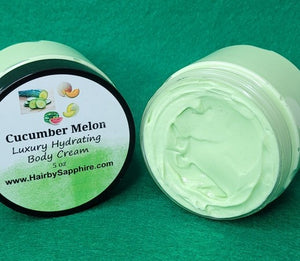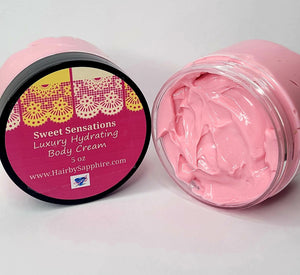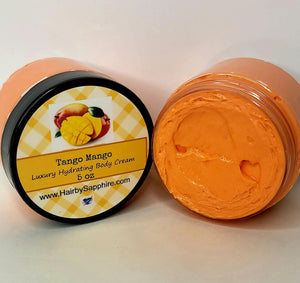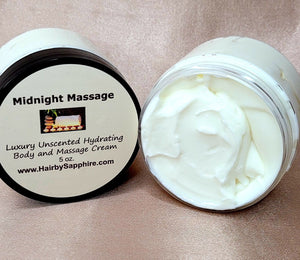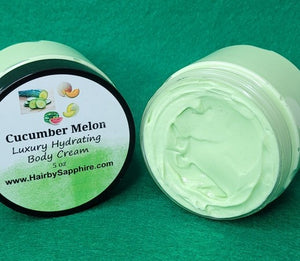 Luxury Hydrating Body Creams
Indulge your skin in luxury. These decadent, silky, luxurious body and hand creams contain sun protection and anti-aging properties, fatty acids and folic acid to help protect your skin from elements such as sunburn, pollution, and radiation, leaving your skin so soft, silky, and glowing.
These skin-loving creams hydrate, soothe, cool, and calm the skin; are rich in vitamins, antioxidants, and minerals. A little goes a long way. 

1) Midnight Massage- Unscented; for face and Body. Perfect for those with eczema, psoriasis, and sensitive skin. Also doubles as the perfect massage cream
2) Love Garden- Alluring Floral Garden Scent; repels mosquitoes 
3) Sweet Sensations- Sweet Scent
4) Cucumber Melon- Cucumber Melon Scent; contains additional anti-aging and additional sun protection properties 
5) Tango Mango- Deliciously Fruity Scent; also repels mosquitoes
6) Tasty Love- Warm, Winter, Irresistible Scent; also contains anti-viral properties
What you'll Love:
Relieves skin conditions such as eczema
Reduces signs of aging, fine lines and wrinkles

Age-defying

Firms skin
Seals in moisture
Boosts healing of wounds
Reduces inflammation
Strengthens the skins natural moisture barrier to prevent future skin dehydration
Removes darks spots, blemishes, and evens out skin tone
Repels Mosquitoes (the Love Garden Luxury Hydrating Body Cream)
Paraben-free
Silicone-free
Mineral oil-free
Lanolin-free
Carcinogen-free
These age defying creams make great Spa Massage, Med Spa, and Mani-pedi Creams too!